'The Donor' is wonderful new drama project I have the luck to be a part of thanks to producer Wis Petter. Wis wrote a fantastic first draft of the script and took me on board to help expand the scope of the story and add more gravitas to it.
Set in the Middle-East on the border between Israel & Gaza, we follow the struggle of Yael the wife of an elderly man who suffer from a rare heart condition needs an urgent organ transplant.
I am delighted to say it is now a truly humane story with powerful message of peace and hope which brings even more value given its location…
We have shot a couple of test scenes to help with the fundraising and From the Heart Productions has been secured as our fiscal sponsor. The pitch deck is posted below for those who wish to read more about it and possibly get involved.
Genre: Drama
Writer: Wis Petter & Charles H. Joslain
Director: Charles H. Joslain
Producer: Wis Petter
DoP: Clifton Stommel
'Calico Queens' is the 14-min proof of concept for the larger upcoming feature project of the same name. It tells the story of two brothers (Everett Moss & Josh Plasse) who grew up in the wild 1860's American West to become professional gamblers and chiselers.
Our amazing cast features several celebrities including Danny Trejo (Machete, Heat, Con Air), Raphael Sbarge (Law & Order, Once Upon a Time) and Hilty Bowen (Guardians of the Galaxy 2).
For more info please check our IDMB page.
And please make sure to watch out teaser above!
Genre: Comedy Western
Writer: Josh Plasse & Everett Moss
Director: Charles H. Joslain
Producer: Ace Salvador
DoP: Jordan Pacheco
Editors: Jordan Pacheco & Charles H. Joslain
VFX: Vanity VFX
'Dole' is a cute little web series which tells the story of Cleo and Edgar. These two misfits looking for their footing in the cast city of London will grew a friendship they did not expect to develop at first.
I had the pleasure to direct Episode 3 where a bus ride becomes a little more hectic then Edgar originally hoped for…
Genre: Comedy
Writer: George O'Connor & Rob Trott
Director: Charles H. Joslain
Producer: Adam Smith
DoP: Markus A Lungberg
On 05, Nov 2016 | In Shorts | By Charles H. Joslain
Gone Dark IMDB page | Facebook | Kickstarter
Gone Dark' is short film which tells the tormented journey of Gina, a young Spanish woman who left her family for London, after what appears to be years of struggle and rejection when she started a loving relationship with a mysterious older man. But the memories we are confronted with, only show Gina's interpretation of what may turn out to be a much more sinister past than she is willing to accept…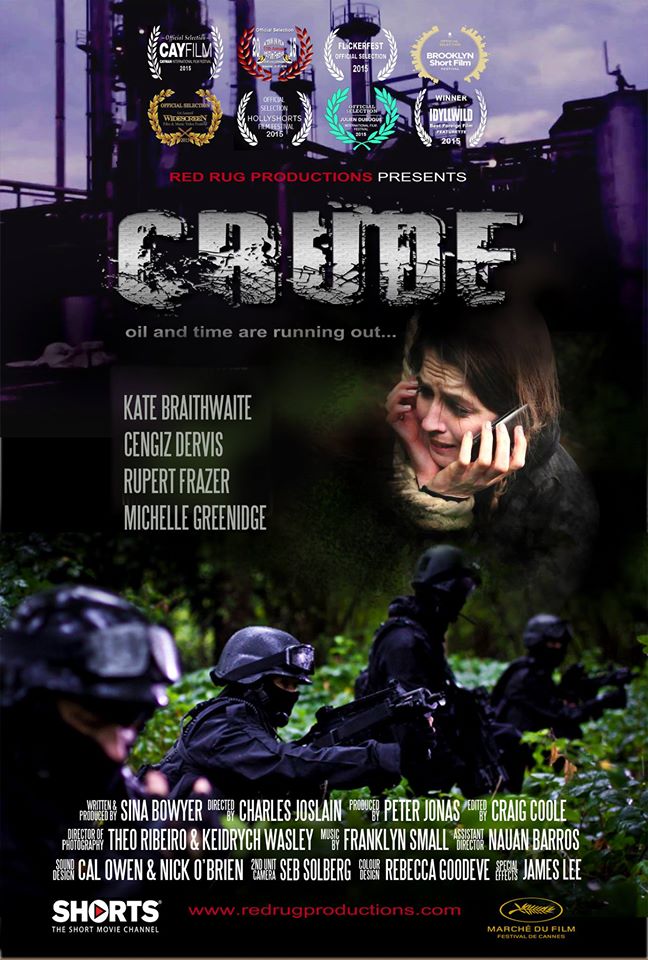 Short thriller featured in several festival:
Cayman International Film Festival
Brooklyn Shorts Festival
Action On Film Festival
HollyShorts Festival
Julien Dubuque International Festival
Widescreen Festival
Flickerfest Festival
Producer: Sina Bowers & Red Rug Productions
Director: Charles H. Joslain
DOP: Theo Ribeiro & Keidrych Wasley
Short quirky comedy shot in B&W and set in the 1950s.
Shot on C300 2K.
Producer: Rubin Moyo & Groundwork Pictures
Director: Charles H. Joslain
DOP: Ben Jones
WINNER of the 2010 Best Acting Award at the Half Cut Film Festival
Short film written & fully produced for the Spanish theatre company Cre'Art as part of their upcoming show "London – El Espectáculo".
Client – Cre'Art
Agency & Prod. Company – Bolt-On.Corp Ltd.
Producer – Charles H. Joslain & Brieuc de Linares
Director – Charles H. Joslain
DoP – James Watt
Fake documentary used as a promotional viral campaign for the feature film 'The Mirror'.
Fake documentary used as a promotional viral campaign for the feature film 'The Mirror'.
Fake documentary used as a promotional viral campaign for the feature film 'The Mirror'.
A short thriller which I produced, directed and edited for my pre-final year independent student project.
Bonus!
My very first short film!
Wrote it, produced it, directed it.
Shot on 16mm with a hand crank Bolex camera.
Good old times…
Based on a the poem "Déjeuner du matin" by Jacques Prévert which you can find here:
http://ph-ludwigsburg.de/
The assignment was also about using non-sync sound, black & white and make under 5 minutes.